2nd Mar 2022
PRESS RELEASE
Automotive Cells Company inaugurates its Industrial Center of Excellence in Nersac – Angoulême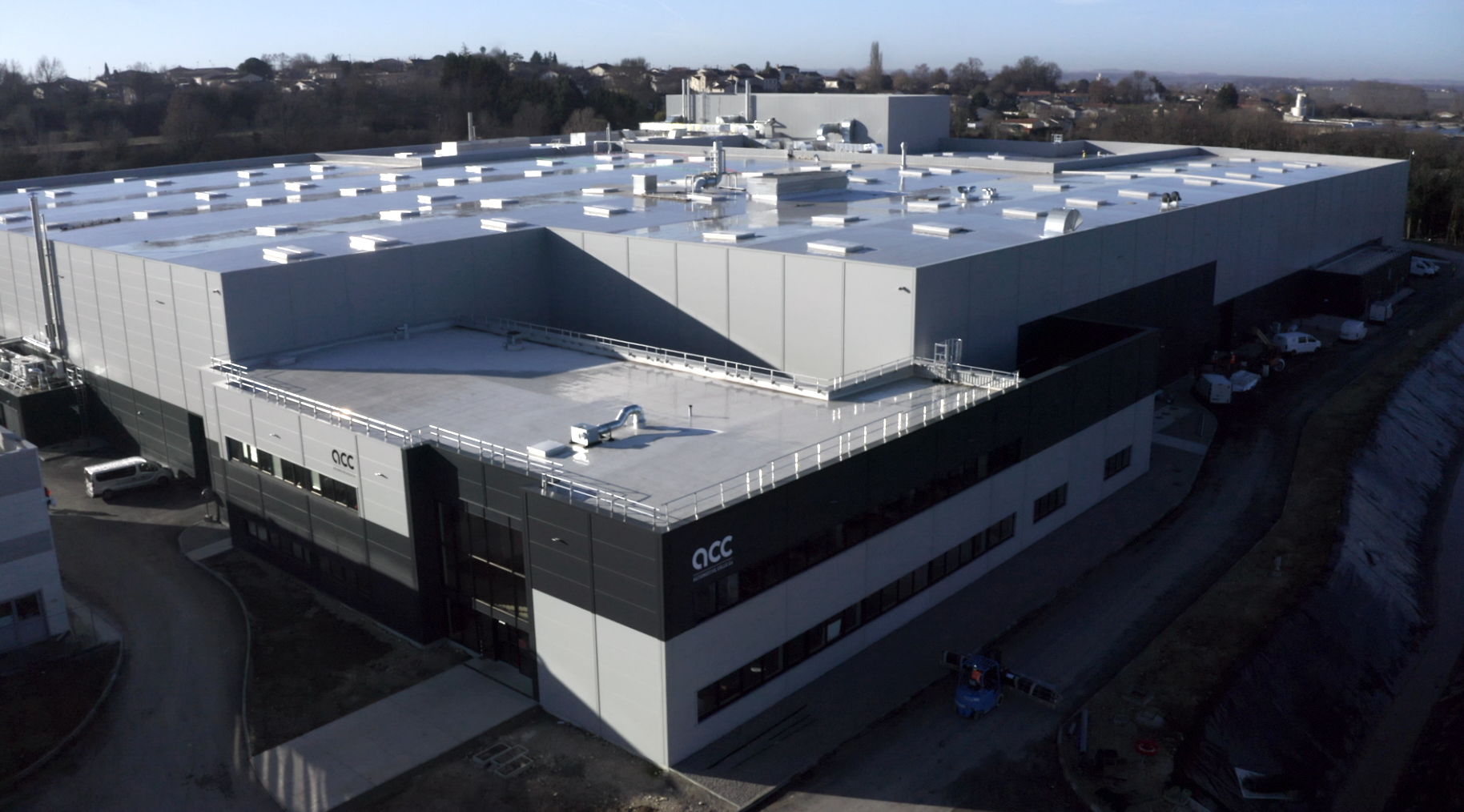 On March 11, Automotive Cells Company will inaugurate its Industrial Center of Excellence in Nersac – Angoulême, where the first electric batteries for cars "made in France" will be produced!
The Centre of Industrial Excellence of Nersac – Angoulême (16) is:
 

A complete production line with equipment identical to those of the 2 future Gigafactories of Billy-Berclau / Douvrin (France) and Kaiserslautern (Germany).
 
A state-of-the-art production plant, with the highest quality and environmental standards, designed to:

Develop, test, and deliver prototype batteries "made in France"
Test all future innovations of manufacturing processes, their industrial efficiency ("factory 4.0"), their adaptation to the next generation of technology. All this, before any deployment in Gigafactories.
 

A construction site inaugurated by President Emmanuel Macron in 2020. A 24,000 m2 building on a 45,000 m2 site, built in less than 16 months.
 
An investment of 100 million euros by ACC's shareholders Saft/TotalEnergies and Stellantis, and supported by local and national authorities, and FEDER funds.
 
The Employee Training Center for future ACC Gigafactories.
 

With this inauguration, ACC continues its development and confirms its ambition to become the European leader in batteries for electrical vehicles.
Bordeaux, 1 March 2022 – Only 18 months after its creation, and less than 6 months after the inauguration of its Research and Development Centre in Bordeaux – Bruges (33), ACC is about to reach a new milestone in its young existence.  On Friday, March 11, its Industrial Center of Excellence of Nersac (near Angoulême) will be inaugurated. Batteries "made in France", for electric cars it starts here!
"By inaugurating our Industrial Centre of Excellence, we are continuing to execute our business plan and will compete to become the European champion of batteries for electric vehicles," said Yann Vincent, ACC's CEO.  "In 18 months, we've come a long way! ACC's teams are continually evolving and working tirelessly to execute our roadmap.  The Centre of Expertise in Bordeaux is less than 6 months old! Today, Nersac, allows us to test all our product and process innovations at scale before their industrial implementation in the Gigafactories. Before the end of 2023 we'll start the production of the 1st factory in the Hauts-de-France, and in the longer term, the 2nd factory will be built in Kaiserslautern in Germany. By 2030, the objective is to produce batteries for more than 2.5 million vehicles per year!".
ACC is the result of an initiative undertaken by Stellantis and TotalEnergies —together with its subsidiary Saft— soon to be joined by Mercedes-Benz, and strongly supported by France, Germany, and the European Union.  Its expansion will help Europe meet the mobility challenges of the energy transition and will secure the supply of this key component for the automotive industry. 
***
Contact ACC
Matthieu Hubert
Mobile: 06 88 05 16 26
Follow us on Linkedin to be the first to hear about our news. 
================================
Communiqué de presse
Le 11 mars, Automotive Cells Company inaugurera son Centre d'Excellence Industrielle de Nersac – Angoulême, d'où sortiront les premières batteries électriques pour automobiles « made in France » !
 
Le Centre d'Excellence Industrielle de Nersac – Angoulême (16), c'est :
 

Une ligne de production complète avec des équipements identiques à ceux des 2 futures Gigafactories de Billy-Berclau / Douvrin (France) et de Kaiserslautern (Allemagne).
 
Une usine d'industrialisation à la pointe de la technologie, aux meilleurs standards qualité et environnementaux, destinée à :

Développer, tester et livrer des batteries prototypes « made in France » ;
Tester toutes les futures innovations de procédés de fabrication, leur efficacité industrielle (« usine 4.0 »), leur adaptation aux prochaines générations technologiques. Ceci avant tout déploiement en Gigafactories.
 

Un chantier inauguré par le Président Emmanuel Macron en 2020, qui a vu sortir de terre en moins de 16 mois un bâtiment de 24 000 m2 sur un terrain de 45 000 m2.
 
Un investissement de 100 millions d'euros voulu par les actionnaires Saft/TotalEnergies et Stellantis, et soutenu notamment par les collectivités locales et nationales, et les fonds FEDER.
 
Le centre de formation des employés des futures Gigafactories d'ACC.
 

Fort de cette inauguration, ACC poursuit son développement et confirme son ambition de devenir le leader européen des batteries.
Bordeaux, le 1er mars 2022 – Seulement 18 mois après sa création, et moins de 6 mois après l'inauguration de son Centre de Recherche et Développement de Bordeaux – Bruges (33), ACC s'apprête à vivre un nouveau moment clef de sa jeune existence. Vendredi 11 mars va être inauguré son Centre d'Excellence Industrielle de Nersac près d'Angoulême : les batteries pour véhicules électriques « made in France », c'est parti… !
« En inaugurant notre Centre d'Excellence Industrielle, nous poursuivons l'exécution de notre plan de marche et concourrons pour devenir un champion européen des batteries pour véhicules électriques », souligne Yann Vincent, le Directeur Général d'ACC. « En 18 mois, que de chemin parcouru ! Les équipes d'ACC, chaque jour plus nombreuses, travaillent sans relâche à exécuter notre feuille de route. Le Centre d'Expertise de Bordeaux a moins de 6 mois ! Nersac aujourd'hui, qui nous permet de tester toutes nos innovations produits et process à l'échelle 1 (taille réelle) avant leur mise en œuvre industrielle dans les Gigafactories. Puis le début de la production de la 1ère usine dans les Hauts-de-France, avant fin 2023. Et à plus long terme, la 2ème usine qui sera basée à Kaiserslautern en Allemagne. Avec, à l'horizon 2030, l'objectif de produire des batteries pour plus de 2,5 millions de véhicules par an ! ».
ACC est le résultat d'une initiative entreprise par Stellantis et TotalEnergies (conjointement avec sa filiale Saft), prochainement rejointe par Mercedes-Benz, et fortement soutenue par la France, l'Allemagne et l'Union Européenne. Son essor va aider l'Europe à relever les défis de la transition énergétique en matière de mobilité et assurera la sécurité d'approvisionnement d'un composant clé pour l'industrie automobile.
***
Contact ACC
Matthieu Hubert
Portable : 06 88 05 16 26
matthieu.hubert@acc-emotion.com
Plus d'informations sur ACC à retrouver sur le site www.acc-emotion.com et sur notre page Linkedin.