One dream, one planet
ACC is part of a global movement to reduce greenhouse gas emissions. So of course, climate was our first objective - but there's much more to being a responsible manufacturer than that. For consistency, our efforts must cover every single aspect of our operation:
consumption and preservation of resources (PM, water, energy)


 

waste management and recycling


 

aqueous and atmospheric discharges


 

eco-design of products and manufacturing processes


 

biodiversity (fauna and flora);


 

noise, odors, landscape integration


 

pollution prevention;


 

environmental management system to handle these various issues;


 

anticipating the end of life of our products.
We're focusing on every little thing we can do to minimize our impact on the environment.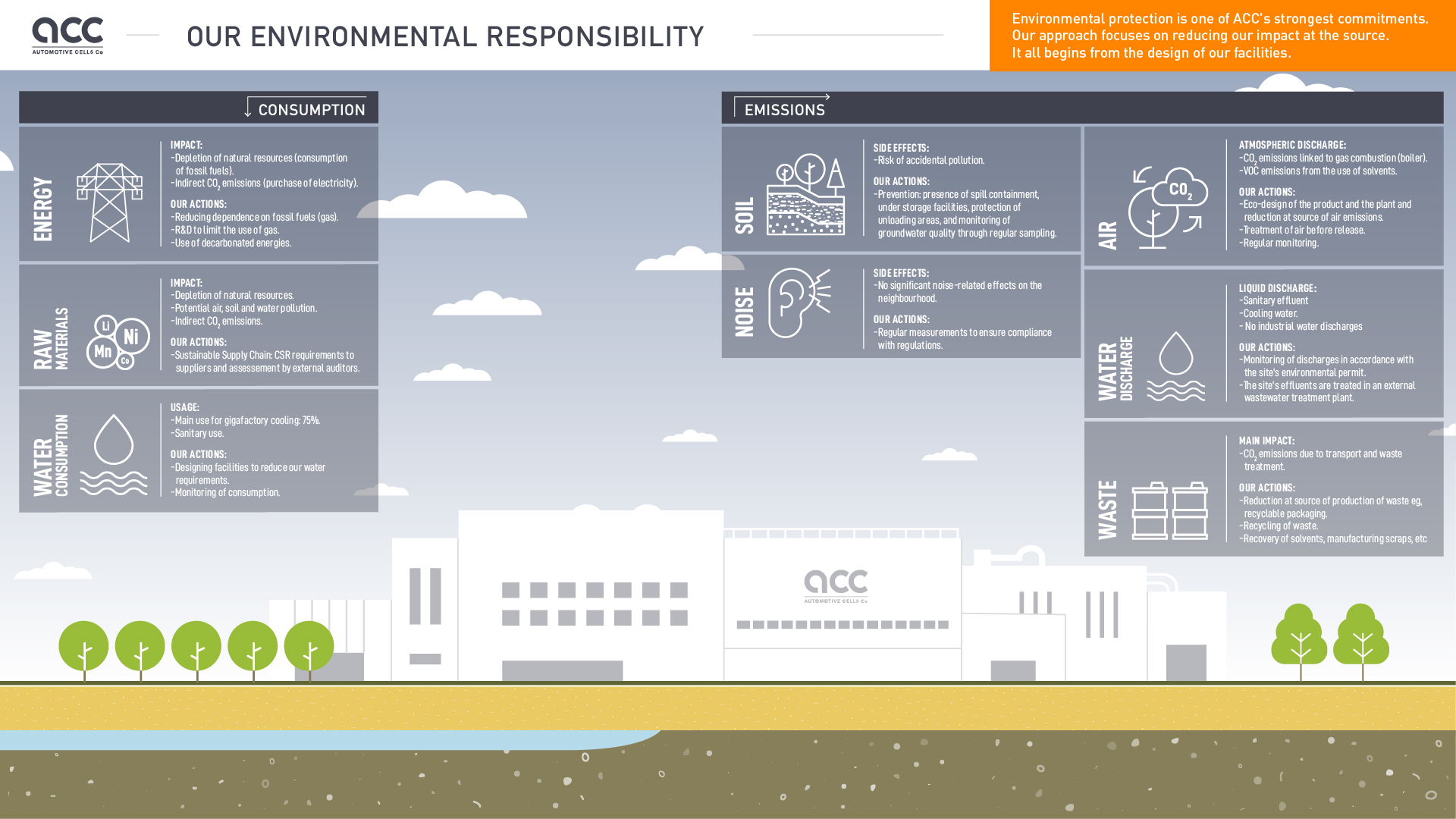 Our plan for the environment
We've made it our mission to minimize our impact on the environment at each stage of the life cycle of our products - from sourcing materials, to the design of buildings, to our industrial processes, to distribution – which means reducing risk and consumption at source, and a Continuous Improvement approach.
To this end, we've identified a wide variety of measures we can undertake. In fact, merely by manufacturing in France, we can take advantage of 92% carbon-free energy in order to reduce the carbon footprint of battery production. Naturally, we will implement an environmental management system with ISO 14001 certification.
But to formulate a comprehensive policy, we must also consider every single environmental effect across our facilities, including studies on: local flora and fauna, preservation of resources, energy and water consumption, atmospheric and liquid emissions, waste management and recovery, traffic to and from the site, acoustics, light and olfactory emissions and landscape integration.
Wherever we build a new factory, we will maintain a strict policy of brownfield regeneration – building only on existing industrial sites whose activity is likely to reduce or disappear (rather than on greenfield spaces or agricultural land) and actively engage in the sustainable management of the local industrial area. Such declining industrial areas are also likely to be home to an under-employed workforce, so we will seek to re-skill and re-employ these workers to further the regeneration of the area.