23rd Sep 2022
ENVIRONMENT
Unlocking the potential of existing industrial sites. An introduction to ACC's brownfield approach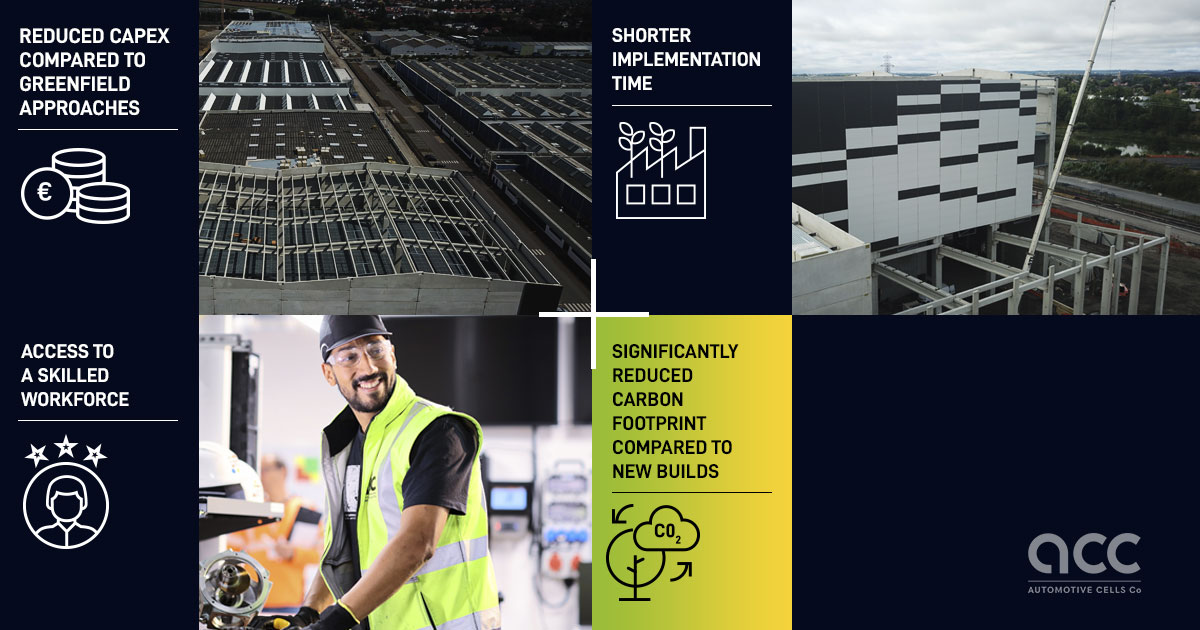 You may have heard us mentioning the term "brownfield" and wondered what it means, and what all the fuss is about? This approach involves redeveloping existing industrial facilities and transforming them for future operations. It is an essential part of ACC's current developments. 
Indeed, to date, all our Gigafactories fit into this framework: 
Billy-Berclau Douvrin is being built on an existing industrial site used by Stellantis' "La Française de mécanique" that was formerly used for the manufacture of internal combustion engines.
Kaiserslautern is being built on a Stellantis site that is being de-commissioned. It currently produces stamping, ironing parts and engines for General Motors. 
Termoli will be built on an existing Fiat Chrysler site that manufactures thermal engines (notably for the Autobianchi Y10 and the Fiat Panda and Uno)
Why? How? What constraints and benefits? Read our article for a peek at the (re)developments that are afoot in the European industrial market. Discover some shining examples of the marriage of modern battery technology and intelligent, sustainable reuse strategies that aim to reincarnate industrial infrastructure.
 
Industrial developments: the end of an era, the start of a new one
The industry underwent several seismic changes between the 19th and 20th centuries. The shift from manual to mass production necessitated many new factories, resulting in an explosion of production. Metallurgy and automotive particularly have been driving forces of the European industry.
But these last few years, fierce competition from China, and also from America, higher industry wages and tax differentials in Europe have been responsible for a reduced competitiveness within European automobile production. The recent changes in legislation and the announcements of the end of combustion engine production has accelerated the decline that started some years ago: a "European deindustrialization" that has seen the closure of several equipment manufactures and plants (cylinder heads, pistons, gearboxes, thermal engines, components, etc.).
Industrial zones are thus characterised by an abundance of dirty, languishing, and underused real estate. Closed factories, obsolete plants… — these urban properties are constrained by environmental challenges—both real and perceived— which in turn often provokes divisions and chills the uptake of reuse and repositioning of otherwise strategic and valuable land.
…Well, it chills some, but not ACC! 
Brown is the new green-ish!
Aligning the environmental and the redevelopment solution is the basis of our integrated model. Indeed, how can we "Accelerate sustainable mobility for all" while limiting the consumption of pristine land? How can we "Accelerate sustainable mobility for all" while protecting the environment to the max of our ability and avoiding putting additional pressure on forests, and the agricultural and (semi)natural land that surrounds us? How can we "Accelerate sustainable mobility for all" while reducing the carbon footprint of our products and that of our sites?  How can we contribute to reindustrializing Europe and creating jobs and value, while allowing for the conversion of sites in potential employment areas that are destined to disappear for the future? How can we make savings by recycling and reusing existing assets?
By promoting brownfield redevelopment as a sustainable strategy. 
An opportunity for ACC
Brownfield regeneration represents valuable social and economic opportunities for ACC. 
Shorter implementation time through the reuse of existing industrial area's assets ( energy supplies, logistics, etc.). The necessary authorizations are usually easier to obtain and the impact for the neighborhood is usually lower as the intended location was previously an industrial area.
Reduced Capex compared to greenfield approaches: possibility to reuse the existing infrastructure with opportunities of savings (raw materials, concrete slabs, existing power supplies, etc.).
Access to a skilled workforce: Existing plant staff, with valuable manufacturing skills, can be more easily retrained to the new technologies brought by ACC,  thus preserving local jobs and allowing for the economic revitalization of local communities. 
A significantly reduced carbon footprint compared to new builds: We certainly won't reach net zero with our Gigafactories in one giant leap, but deliberate steps such as recycling existing materials will take us there – going from thermal engine production to supporting a new decarbonized economy.  
Now let's be honest, repurposing existing industrial sites also poses a lot of difficulties – from polluted soils to under-calibrated power infrastructures for example - but this approach is consistent with our values, and we can take pride in what we do!