6th Mar 2023
MythBusters - Your concerns about batteries and electric vehicles adressed
Is fast-charging convenient for long journeys?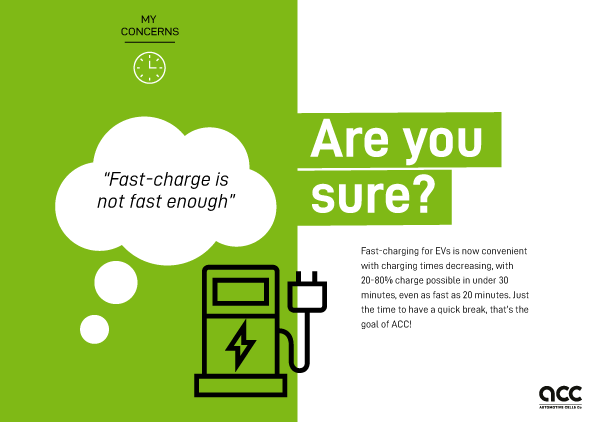 This is the second episode in a series aiming to address your concerns about batteries and electric vehicles. 
What is wrong? What is true? Do we need to know some tips to better manage our electric car battery? 
Find out more in this MythBusters series!
Fast-charging has come a long way in recent years and is now a convenient and effective option for powering up your EV. 
The technology for fast-charging EV batteries has improved significantly, with charging times continuing to decrease.
Many EV fast-charging stations can charge a battery from 20% to 80% in less than 30 minutes, and some even faster. 
You just have time to grab a coffee, have a break and take the road again!
For your information, ACC is designing for 20min.
Learn more about our batteries here: https://acc-emotion.com/batteries
Read the previous episode on the lifespan of the batteries here: Do electric vehicle batteries really have a short lifespan? | Automotive Cells Company (acc-emotion.com)