10th May 2022
HANDELSBLATT
A threat to the rise of electromobility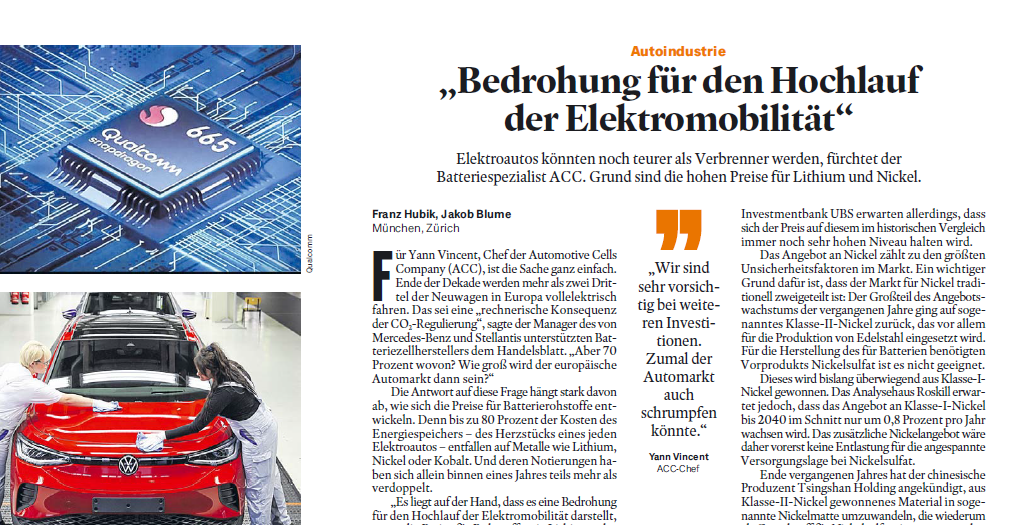 Electric cars could become even more expensive than combustion cars, fears battery specialist ACC. The reason: the high price of lithium and nickel". 
Yann Vincent gave an interview to the German magazine Handelsblatt.  
Read it in German online or translated in English and french below. 
"A threat to the rise of electromobility"
Electric cars could become even more expensive than combustion cars, fears battery specialist ACC. The reason: the high price of lithium and nickel.
Franz Hubik, Jakob Blume
Munich, Zurich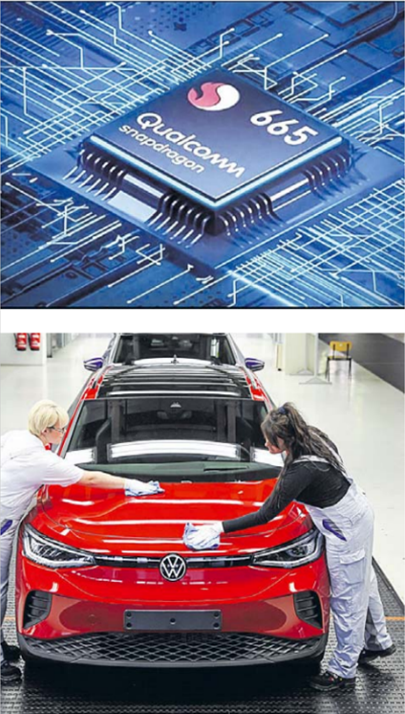 For Yann Vincent, CEO of Automotive Cells Company (ACC), things are simple.
By the end of the decade, more than two-thirds of new cars in Europe will be fully electric;
This is an "arithmetic consequence of the CO2 regulations," the head of the cell manufacturing company backed by Mercedes-Benz and Stellantis told Handelsblatt newspaper.
"But 2/3 of what? How big will the European car market be?
The answer to this question depends very much on the development of prices for battery raw materials. Indeed, metals such as lithium, nickel or cobalt (the heart of every electric vehicle) represent up to 80% of the cost of energy. And their prices have more than doubled in the space of a year.
"It is obvious that there is a threat to the rise of electric mobility if the prices of raw materials such as lithium or nickel remain at their current level, because they drive up the cost of electric cars," warns Yann Vincent.
 Electric vehicles remain significantly more expensive than diesel and petrol.
"This gap could widen. That would not be good.
Yann Vincent is convinced that the price of battery raw materials will only drop when more mines start to be exploited. "But until these new nickel and lithium mining projects come on stream, a lot of time will pass. That should be in 2025 or 2026.
If the CEO is right, electric cars will remain expensive for many years. After all, the battery accounts for about 40% of the cost of the whole vehicle.
In order to prevent the electric car boom from fizzling out, the desire to combat climate change would not be decisive, says Stefan Bergold, European Director of Farasis, a Chinese battery specialist. He too stresses the importance of the development of lithium and nickel mining and refining.
"Only with a significant increase in private and public investment will it be possible to supply sufficient raw materials, offer prices in line with the market and reduce delivery shortages," Bergold told Handelsblatt newspaper.
The steady downward trend in the price of electric car batteries is at least over for 2022 following record prices for lithium and nickel.
According to data from Benchmark Minerals, battery-grade lithium carbonate cost around USD 60,000 per tonne on average worldwide in March. Compared to the average at the end of 2021, this figure has more than doubled. An improvement is hardly in sight in the short term, says George Miller, an analyst at Benchmark Minerals. He too expects that it will not be until 2024 or 2025 that we will see new quantities of metal on the market. By then, the industry specialist expects a "clear shortage" in the lithium market. The price of nickel soared in March over a short period. It even exceeded USD 100,000 per tonne. Since then, however, prices have stabilised and are now around 33,000 dollars per tonne.
However, analysts at the Swiss investment bank UBS expect the price to remain at a historically high level. Nickel supply is one of the biggest factors of uncertainty in the market. One important reason is that the nickel market has traditionally been divided into two parts:
Most of the growth in supply in recent years has been due to so-called Class II nickel, which is mainly used for the production of stainless steel. It is not suitable for the production of nickel for batteries.
Until now, the latter has been produced mainly from Class I nickel.
However, Roskill forecasts that the supply of Class I nickel will only increase by an average of 0.8% per year until 2040. The additional nickel supply would therefore not, for the time being, relieve nickel supply.
At the end of last year, the Chinese producer Tsingshan Holding announced that it would process Class II nickel into nickel mattes. Nickel mattes, which in turn can be used as a raw material for nickel sulphate.
In the industry, this process is seen as a "game changer", which would alleviate nickel shortages.
However, carmakers are not expected to accept nickel from lower quality sources into their supply chains, warns analysts at S&P Global Platts.
Battery manufacturers like ACC are therefore holding back from expanding their businesses at present.
The company did announce recently a third plant in Termoli, Italy, after Kaiserslautern and Douvrin.
The total capacity of 120 GWh by 2030 has not changed, however. "We are very cautious about new investments. Especially as the automotive market could also slow down," explains ACC CEO Yann Vincent. "We are not sure how the infrastructure and costs of electric cars will evolve".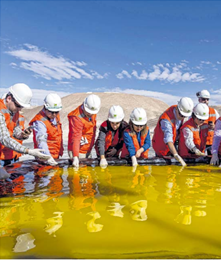 "We are very cautious about new investments, especially since the automotive market could also slow down.".
Yann Vincent - ACC's CEO
 Read the french version here