5th Jun 2023
CSR
ACC's 2022 corporate sustainability report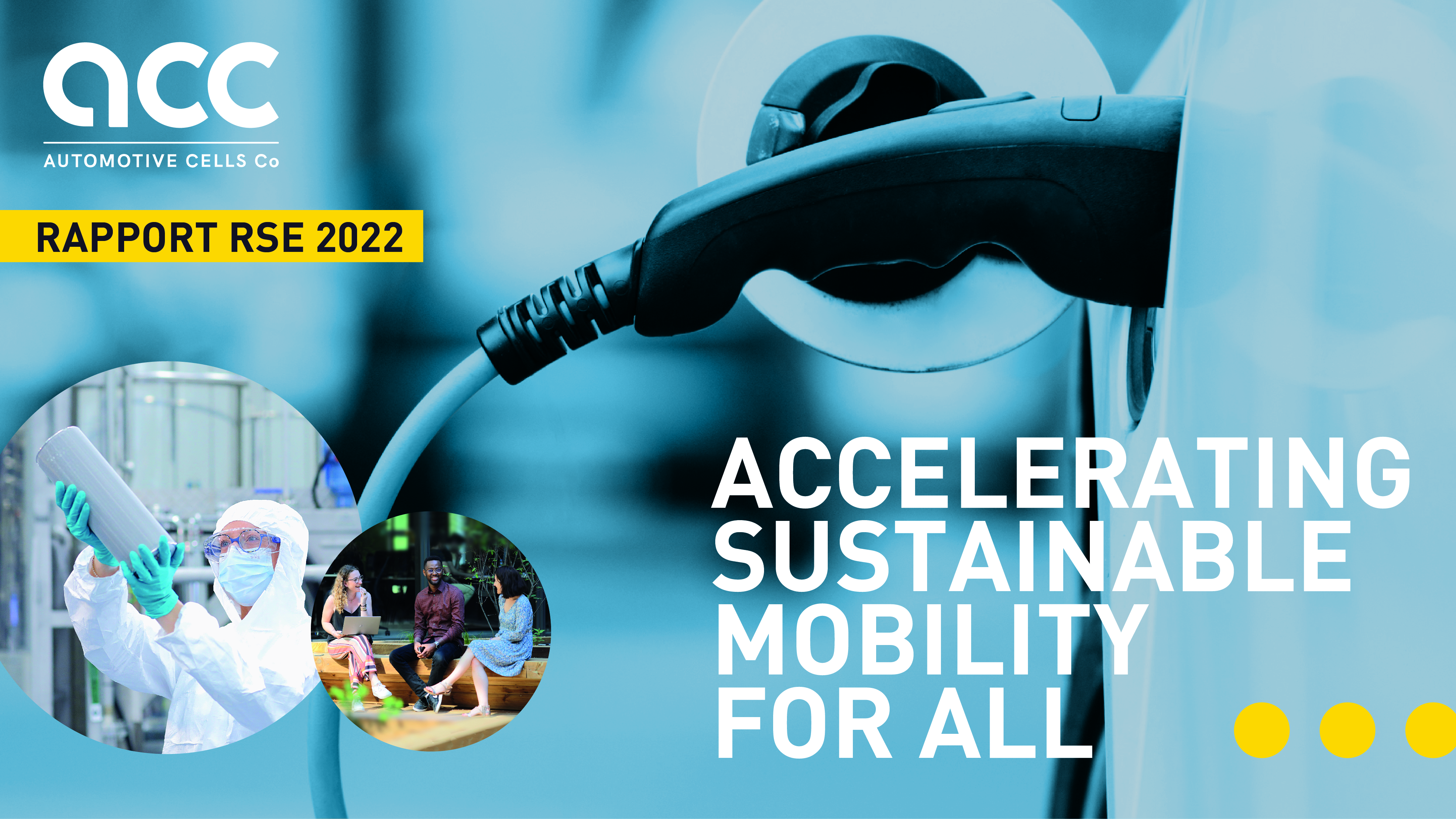 "ACC exists to offer a responsible, sustainable alternative to mobility, in all sense of the term.  We define ourselves as a responsible business that strives to manufactures  its products in a transparent way and promotes a considerate culture towards people, communities and the planet. Through this official public report, ACC is for the first time reporting on its ambitious CSR commitments, priorities and actions. This is the promise we hold ourselves accountable for." Agnès Huguet, CSR Manager
At ACC, we are convinced that our success is based on placing Corporate Social Responsibility (CSR) at the heart of our business. We are convinced that creating a business in response to the challenges of the energy transition and sustainable mobility commits us to exercising our responsibility at every stage of the lifecycle of the our products, producing respectfully of the environment and of the best ethical and social standards. And we are convinced that transparency is key to accountability in setting and meeting goals. 
This is why we are proud to share with you our first voluntary CSR report. It presents the challenges we face and how we decided to address them. It reports on our commitments, priorities and actions in order to reducing the negative impacts of battery production and making a positive contribution to our employees, our territories, and society in general. 
What will you find in the CSR report and why should you download it? 
Our CSR Report outlines our detailed sustainability roadmap, starting with our CSR Manifesto that states how we wish to be a contributing company for our employees, the communities in which we operate and society as a whole. 
Our business model explains in a nutshell what we do, the resources we use, and the result of our activities. 
The reports then details each one of our CSR pillars, our targets, commitments and levers for action, as well as concrete illustrations, testimonials and key figures. 

Focus on… Sustainability in Motion 
Our internal sustainability approach
Our ambition to "Accelerate Sustainable Mobility for All" is only truly meaningful if it is backed by a strong CSR culture that is shared, supported and embodied by each and every one of ACC employees. Everyone must feel proud of acting on behalf of a project that places its environmental, social and societal impacts at the heart of its concerns and strategy. 
The sustainability in Motion program aims to do just that: 
It ensure that all employees have been made aware of CSR at least at least once during their first 6 months at ACC.
It ensure that everyone shares the same minimum level of knowledge and understanding of the fundamentals of CSR, the challenges, the impacts and contributions in terms of CSR, and ACC's CSR approach - policy, priorities and objectives.
It lets employees know what is expected of them to contribute to achieving ACC's CSR objectives. It encourage commitment and involvement at their own level, and the submission of new ideas and initiatives with the support of our CSR Champions. It inspires them, via workshops, conferences and awareness sessions, to systematically integrate CSR into the projects and decision-making.