23rd Mar 2022
PRESS RELEASE
Automotive Cells Company (ACC) welcomes Mercedes-Benz as future equal shareholder, alongside Stellantis and TotalEnergies/Saft and plans third factory for Italy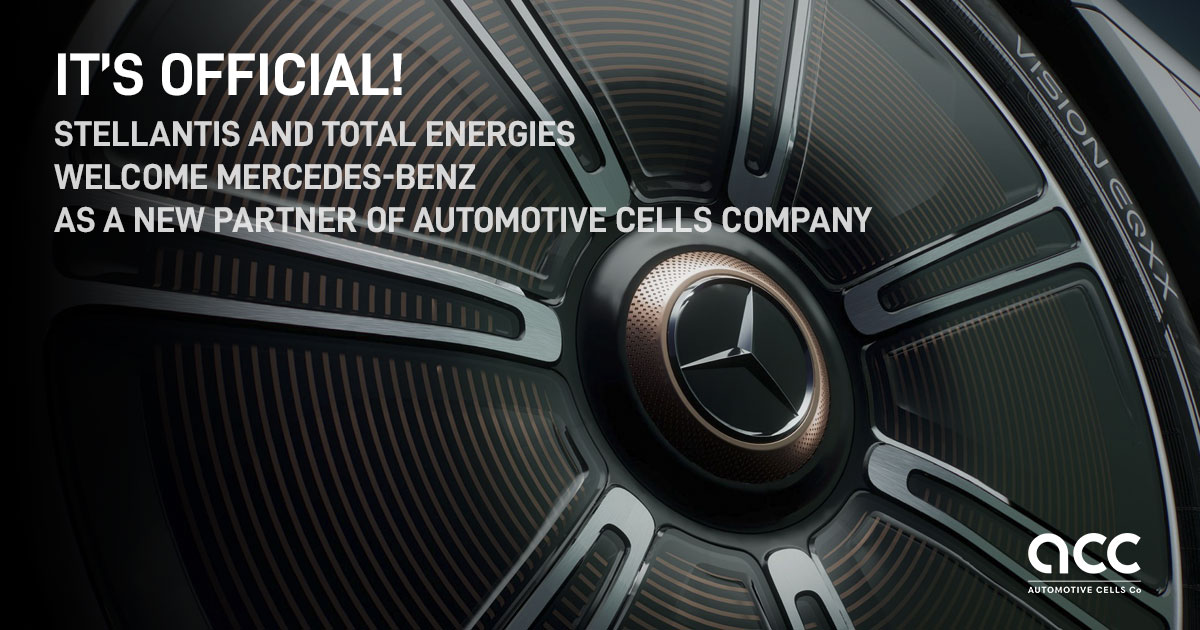 Automotive Cells Company (ACC) welcomes Mercedes-Benz as future equal shareholder, alongside Stellantis and TotalEnergies/Saft and plans third factory for Italy
Mercedes-Benz to become an equal shareholder of ACC along with Stellantis and TotalEnergies/Saft, each with 1/3 equity stake.
ACC intends to invest in Italy to build a 3rd cell manufacturing plant in Termoli.
Mercedes-Benz to provide technology and production know-how to ACC.
Partners to accelerate ACCs development with an objective of at least 120 GWh of cell capacity by 2030.
The production capacity of the French and German plants will be increased to 40 GWh from 24 GWh per plant.
Paris, March 23, 2022 – Stellantis, TotalEnergies/Saft and Mercedes-Benz have finalized the agreement to welcome Mercedes-Benz as a new, equal partner of Automotive Cells Company (ACC). The partners have committed to increase ACC's industrial capacity to at least 120 GWh by 2030. By then, its French (Billy-Berclau/Douvrin) and German (Kaiserslautern) plants will each be able to produce at least 40 GWh per year against the 24 GWh initially planned.
In addition, ACC's industrial footprint would be enriched by a third production site in Termoli, Italy. A Memorandum of Understanding between ACC and the Italian authorities was signed on March 21 to formalize the willingness of shareholders to invest in Italy, and of Italian authorities to support that investment.
The new Shareholder Agreement is subject to customary closing conditions, including regulatory approvals.
"We are delighted to welcome Mercedes-Benz as a new partner of ACC. This demonstrates the credibility of the initiative taken a year ago by TotalEnergies/Saft and Stellantis and clearly supports our ambition to be an innovative European battery player. This is a fundamental step for ACC. After only 18 months of existence, ACC is on track with both its R&D center in Bordeaux and its pilot site in Nersac already operational. The arrival of Mercedes-Benz brings a vote of confidence in our technological roadmap and in the competitiveness of our products, which significantly strengthens ACC's commercial potential and supports our ambitious growth plans." said Yann Vincent, ACC's CEO.
ACC was established by Stellantis and TotalEnergies/Saft and supported by the French, German, and European authorities, to create an innovative European battery player for electric vehicles. The entry of Mercedes-Benz in ACC is a clear demonstration of the industrial progress and of the merits of the project, which it will strengthen.
ACC's purpose is to develop and produce battery cells and modules for electric vehicles with a focus on safety, performance, and competitiveness, while ensuring the highest level of quality and the lowest carbon footprint. The updated ACC capacity plan will mobilize an investment of more than seven billion euros.
ACC supports Europe to address the challenges of the energy transition in mobility and will ensure its security of supply of a key component for the electric car industry.
Upon closing, ACC will combine the strengths of a winning trio of partners:
A deep technological expertise in battery development with Saft, an affiliate of TotalEnergies, which has more than 100 years of experience in the field of long-life batteries and battery systems.
A leading global mobility player with Stellantis that has a clear mission to lead the way the world moves by delivering innovative, clean, safe, and affordable mobility solutions.
The research and development expertise of Mercedes-Benz, along with its support to the expansion of ACC's production facilities based on the brand's benchmark quality standards.
***
About ACC
Automotive Cells Company (ACC) was founded in August 2020 and will combine the expertise of three major companies with complementary skills and experience. ACC's ambition is to become a European leader for car batteries that allow clean and efficient mobility for all. The R&D Center and testing facilities in Nouvelle-Aquitaine are just the beginning. 
About Mercedes-Benz
Mercedes-Benz AG is responsible for the global business of Mercedes-Benz Cars and Mercedes-Benz Vans, with over 170,000 employees worldwide. The company focuses on the development, production and sales of passenger cars, vans and vehicle-related services. Furthermore, the company aspires to be the leader in the fields of electric mobility and vehicle software. Mercedes-Benz AG is one of the world's largest manufacturers of luxury passenger cars. In its two business segments, Mercedes-Benz AG is continually expanding its worldwide production network with around 35 production sites on four continents, while gearing itself to meet the requirements of electric mobility. At the same time, the company is constructing and extending its global battery production network on three continents.  
About Saft
Saft specializes in advanced technology battery solutions for industry, from the design and development to the production, customization and service provision. For more than 100 years, Saft's longer-lasting batteries and systems have provided critical safety applications, back-up power and propulsion for our customers. Our innovative, safe and reliable technology delivers high performance on land, at sea, in the air and in space. Saft is powering industry and smarter cities, while providing critical back-up functionality in remote and harsh environments from the Arctic Circle to the Sahara Desert. Saft is a wholly owned subsidiary of TotalEnergies, a broad energy group that produces and markets fuels, natural gas and electricity.
We energize the world. www.saftbatteries.com
About Stellantis 
Stellantis N.V. (NYSE / MTA / Euronext Paris: STLA) is one of the world's leading automakers and a mobility provider. Its storied and iconic brands embody the passion of their visionary founders and today's customers in their innovative products and services, including Abarth, Alfa Romeo, Chrysler, Citroën, Dodge, DS Automobiles, Fiat, Jeep®, Lancia, Maserati, Opel, Peugeot, Ram, Vauxhall, Free2move and Leasys. Powered by our diversity, we lead the way the world moves – aspiring to become the greatest sustainable mobility tech company, not the biggest, while creating added value for all stakeholders as well as the communities in which it operates. For more information, visit www.stellantis.com.
About TotalEnergies
TotalEnergies is a broad energy company that produces and markets energies on a global scale: oil and biofuels, natural gas and green gases, renewables and electricity. Our 105,000 employees are committed to energy that is ever more affordable, clean, reliable and accessible to as many people as possible. Active in more than 130 countries, TotalEnergies puts sustainable development in all its dimensions at the heart of its projects and operations to contribute to the well-being of people. 
Contact ACC:
Matthieu Hubert: +33 (0) 6 88 05 16 26, matthieu.hubert@acc-emotion.com
LinkedIn : https://www.linkedin.com/company/acc-automotive-cells-company/
Contacts Mercedes-Benz:
Birgit Zaiser:
 
Contacts Saft:  
Elma Peters: +33 (0) 7 63 46 06 47; elma.peters@saftbatteries.com
 
Contacts Stellantis:
Fernão SILVEIRA +31 6 43 25 43 41 – fernao.silveira@stellantis.com
Valerie Gillot: +33 6 83 92 92 96, valerie.gillot@stellantis.com
 
Contacts TotalEnergies :
Relations Médias : +33 1 47 44 46 99 l presse@totalenergies.com l @TotalEnergiesPR
Relations Investisseurs : +44 (0)207 719 7962 l ir@totalenergies.com
Cautionary Note 
This press release, from which no legal consequences may be drawn, is for information purposes only.
============================
Communiqué de presse 
Automotive Cells Company (ACC) accueille officiellement Mercedes-Benz comme nouvel actionnaire, aux côtés de Stellantis et TotalEnergies, et prévoit une 3ème usine en Italie
Mercedes-Benz devient officiellement actionnaire d'ACC à part égale avec Stellantis et TotalEnergies, à hauteur d'un tiers du capital.
ACC prévoit d'investir en Italie pour construire à Termoli une 3ème usine de fabrication de cellules.
Mercedes-Benz apportera son savoir-faire technologique et industriel à Automotive Cells Company (ACC).
Les partenaires entendent accélérer le développement d'ACC, avec l'objectif d'une capacité minimum de 120 GWh de production de cellules d'ici 2030.
Ce faisant, la capacité de production des usines française et allemande sera portée à 40 GWh au lieu de 24 GWh.
Paris, le 23 mars 2022 – Stellantis, TotalEnergies et Mercedes-Benz ont finalisé les accords définitifs en vue d'accueillir Mercedes-Benz comme nouveau partenaire d'Automotive Cells Company (ACC).  Avec cette arrivée, la capacité industrielle d'ACC va être portée à 120 GWh minimum d'ici 2030. A cet horizon, ses usines française (Billy-Berclau / Douvrin) et allemande (Kaiserslautern) pourront chacune produire au moins 40 GWh par an contre les 24 GWh initialement prévus.
De plus, la feuille de route industrielle d'ACC s'enrichira d'un 3ème site de production à Termoli en Italie. Un premier protocole d'accord entre ACC et les autorités italiennes a été signé le 21 mars pour officialiser cette volonté des actionnaires d'investir en Italie, et fixer ce que pourraient en être les modalités précises.
Le nouveau pacte d'actionnaires est conditionné aux conditions usuelles en matière de closing et aux approbations des autorités européennes compétentes.
"Nous sommes ravis d'accueillir Mercedes-Benz en tant que nouveau partenaire d'ACC. Ceci démontre la pertinence de l'initiative prise il y a un an par TotalEnergies et Stellantis et conforte clairement notre ambition d'être un acteur européen innovant dans le domaine des batteries. Il s'agit d'une étape fondamentale pour ACC. Après seulement 18 mois d'existence, ACC est sur la bonne voie avec son centre de R&D opérationnel à Bordeaux et son site pilote de Nersac en France qui a commencé à produire depuis le début de cette année. L'arrivée de Mercedes-Benz apporte un vote de confiance dans notre feuille de route technologique et dans la compétitivité de nos produits, ce qui renforce de manière significative le potentiel commercial d'ACC et soutient nos plans de croissance ambitieux », a déclaré Yann Vincent, Directeur Général d'ACC.
ACC est le résultat d'une initiative entreprise en 2020 par Stellantis et TotalEnergies, conjointement avec sa filiale Saft, soutenue par la France, l'Allemagne et l'Union Européenne afin de créer un acteur européen innovant des batteries pour véhicules électriques. L'arrivée de Mercedes-Benz au sein d''ACC démontre le bien-fondé de cette initiative et les avancées réalisées depuis août 2020, qui seront ainsi renforcés.
L'objectif d'ACC est de développer et de produire des cellules et des modules de batteries pour véhicules électriques en mettant l'accent sur la sécurité, les performances et la compétitivité, tout en garantissant le plus haut niveau de qualité et la plus faible empreinte carbone. Le nouvel objectif de capacité mobilisera un investissement de plus de 7 milliards d'euros. 
ACC va ainsi aider l'Europe à relever les défis de la transition énergétique en matière de mobilité, en assurant la sécurité d'approvisionnement d'un composant clé pour l'industrie automobile de demain. 
Une fois validé ce nouveau pacte d'actionnaires, ACC s'appuie sur trois partenaires de choix en associant :
Une expertise technologique approfondie dans le développement de batteries avec Saft, filiale de TotalEnergies, qui a plus de 100 ans d'expérience dans le domaine des batteries et des systèmes de batteries à longue durée de vie.
Un acteur mondial de premier plan, avec Stellantis, dont la mission est de montrer la voie à suivre en fournissant des solutions de mobilité innovantes, propres, sûres et abordables.
L'expertise en recherche et développement de Mercedes-Benz, son soutien à la croissance d'ACC et les normes et standards de qualité de référence attaché à sa marque.
***
A propos d'ACC
Automotive Cells Company (ACC) a été fondée en août 2020 et combine à ce jour l'expertise de trois grandes entreprises aux compétences et expériences complémentaires. L'ambition d'ACC est de devenir le leader européen du marché des batteries automobiles qui permettent une mobilité propre et efficace pour tous. Le centre de R&D et les installations d'essai en Nouvelle-Aquitaine ne sont qu'un début.
À propos de Saft 
Saft est le spécialiste des batteries de haute technologie pour l'industrie, de la conception et du développement à la production, à la personnalisation et à la fourniture de services. Depuis plus de 100 ans, Saft fournit à ses clients des batteries d'une durée de vie toujours plus longue, pour l'alimentation de secours et la propulsion de leurs applications critiques. Notre technologie innovante, sûre et fiable assure une haute performance sur terre, en mer, dans les airs et dans l'espace. Saft fournit l'énergie de l'industrie et des villes intelligentes, tout en assurant des fonctions de secours dans des environnements extrêmes, du cercle polaire jusqu'au désert du Sahara. Saft est une filiale à 100 % de TotalEnergies, un groupe multi-énergies, qui produit et commercialise des carburants, du gaz naturel et de l'électricité. 
We energize the world. www.saftbatteries.com
À propos de Mercedes-Benz 
Mercedes-Benz AG gère l'activité mondiale de Mercedes-Benz Cars et de Mercedes Benz Vans, avec plus de 170 000 collaborateurs à travers le monde. La société se concentre sur le développement, la production et la vente de véhicules de tourisme, de vans et de services automobiles associés. Par ailleurs, elle aspire à devenir leader dans les domaines de la mobilité électrique et des logiciels embarqués. Mercedes-Benz AG est l'un des plus gros constructeurs internationaux de voitures de luxe. Dans ses deux branches, Mercedes-Benz AG élargit constamment son réseau de production mondial avec 35 sites de production répartis sur 4 continents, tout en s'outillant pour répondre aux enjeux de la mobilité électrique. En parallèle, la société développe son réseau de production de batteries sur 3 continents.
À propos de Stellantis
Stellantis est un constructeur automobile mondial et un fournisseur de mobilité de premier plan, guidé par une vision claire : offrir la liberté de mouvement à tous grâce à des solutions de mobilité abordables, polyvalentes et durables. Outre son riche patrimoine et sa présence géographique de premier plan, le Groupe possède des atouts majeurs : une performance durable, une expérience approfondie et un grand nombre de collaborateurs travaillant dans le monde entier. Stellantis tirera parti de son large portefeuille de marques emblématiques, fondées par des visionnaires qui leur ont insufflé passion et esprit de compétition qui résonnent encore aujourd'hui, aussi bien auprès des employés que des clients. Stellantis aspire à devenir le meilleur, et non le plus grand, tout en créant de la valeur ajoutée pour toutes les parties prenantes ainsi que pour les communautés dans lesquelles il opère. 
À propos de TotalEnergies 
TotalEnergies est une compagnie multi-énergies mondiale de production et de fourniture d'énergies : pétrole et biocarburants, gaz naturel et gaz verts, renouvelables et électricité. Ses 105 000 collaborateurs s'engagent pour une énergie toujours plus abordable, propre, fiable et accessible au plus grand nombre. Présent dans plus de 130 pays, TotalEnergies inscrit le développement durable dans toutes ses dimensions au cœur de ses projets et opérations pour contribuer au bien-être des populations.
Contact ACC :
Matthieu Hubert: +33 (0) 6 88 05 16 26, matthieu.hubert@acc-emotion.com
Contacts Mercedes-Benz :
Aline Meiser: +49 (0) 176 30 900 064, aline.meiser@daimler.com 
Heike Rombach: +49 (0) 176 30 922 505, heike.rombach@daimler.com
Contacts Saft :    
Elma Peters: +33 (0) 7 63 46 06 47; elma.peters@saftbatteries.com
Contacts Stellantis :
Pierre-Olivier Salmon: +33 6 76 86 45 48, pierreolivier.salmon@stellantis.com
Valerie Gillot: +33 6 83 92 92 96, valerie.gillot@stellantis.com
Contacts TotalEnergies
•    Relations Médias : +33 1 47 44 46 99 l presse@totalenergies.com l @TotalEnergiesPR
•    Relations Investisseurs : +44 (0)207 719 7962 l ir@totalenergies.com
Avertissement
Ce communiqué de presse est publié uniquement à des fins d'information et aucune conséquence juridique ne saurait en découler. 
============================
Pressemitteilung 
Automotive Cells Company (ACC) begrüßt Mercedes-Benz als künftigen gleichberechtigten Anteilseigner neben Stellantis und TotalEnergies/Saft und plant dritte Fabrik in Italien
Mercedes-Benz wird zu gleichen Teilen wie Stellantis und TotalEnergies/Saft mit je einem Drittel Anteilseigner von ACC.
ACC beabsichtigt, in Italien zu investieren und in Termoli ein drittes Werk zur Herstellung von Batteriezellen zu errichten.
Mercedes-Benz stellt Know-how in den Bereichen Technologie und Produktion für ACC zur Verfügung.
Die Partner werden die Entwicklung von ACC mit dem Ziel beschleunigen, bis 2030 eine Zellkapazität von mindestens 120 GWh zu erreichen.
Die Produktionskapazität der französischen und deutschen Werke wird von 24 GWh pro Werk auf 40 GWh erhöht. 
Paris, 23. März 2022 - Stellantis, TotalEnergies/Saft und Mercedes-Benz haben die Vereinbarung finalisiert, Mercedes-Benz als neuen, gleichberechtigten Partner der Automotive Cells Company (ACC) aufzunehmen. Die Partner haben sich verpflichtet, die industrielle Kapazität von ACC bis 2030 auf mindestens 120 GWh zu erhöhen. Bis dahin werden die französischen (Billy-Berclau/Douvrin) und deutschen (Kaiserslautern) Werke in der Lage sein, jeweils mindestens 40 GWh pro Jahr zu produzieren, gegenüber den ursprünglich geplanten 24 GWh.
Darüber hinaus ist geplant, den industriellen Fußabdruck von ACC durch eine dritte Produktionsstätte in Termoli, Italien, zu erweitern. Am 21 März wurde hierzu eine Absichtserklärung zwischen ACC und den italienischen Behörden unterzeichnet. Sie formalisiert die Bereitschaft der Anteilseigner, in Italien zu investieren, und der italienischen Behörden, diese Investition zu unterstützen.
Die neue Gesellschaftervereinbarung unterliegt den üblichen Vollzugsbedingungen, einschließlich behördlicher Genehmigungen.
"Wir freuen uns sehr, Mercedes-Benz als neuen Partner von ACC begrüßen zu dürfen. Dies beweist die Glaubwürdigkeit der vor einem Jahr von TotalEnergies/Saft und Stellantis ergriffenen Initiative und unterstützt eindeutig unsere Ambition, ein innovativer europäischer Akteur im Bereich Batterien zu sein. Dies ist ein grundlegender Schritt für ACC. Nach nur 18 Monaten des Bestehens ist ACC mit seinem schon in Betrieb genommenen Forschungs- und Entwicklungszentrum in Bordeaux und seiner Pilotanlage in Nersac auf dem richtigen Weg. Der Einstieg von Mercedes-Benz ist ein Vertrauensbeweis in unseren technologischen Fahrplan und in die Wettbewerbsfähigkeit unserer Produkte, der das kommerzielle Potenzial von ACC erheblich stärkt und unsere ehrgeizigen Wachstumspläne unterstützt.", sagte Yann Vincent, CEO von ACC.
ACC wurde von Stellantis und TotalEnergies/Saft gegründet und wird von den französischen, deutschen und europäischen Behörden unterstützt, um einen innovativen europäischen Akteur im Bereich Batterien für Elektrofahrzeuge zu schaffen. Der Beitritt von Mercedes-Benz zu ACC ist ein klarer Beweis für den industriellen Fortschritt und die Vorzüge des Projekts, die es stärken wird.
Ziel von ACC ist es, Batteriezellen und -module für Elektrofahrzeuge zu entwickeln und zu produzieren, mit einem Fokus auf Sicherheit, Leistung und Wettbewerbsfähigkeit. Gleichzeitig soll ein Höchstmaß an Qualität sichergestellt werden, bei kleinstem CO2-Fußabdruck. Der aktualisierte ACC-Kapazitätsplan wird Investitionen von mehr als sieben Milliarden Euro mobilisieren. 
ACC unterstützt Europa bei der Bewältigung der Herausforderungen der Energiewende im Mobilitätsbereich und wird die Versorgungssicherheit bei einer Schlüsselkomponente für die Elektroautoindustrie gewährleisten.
Nach Abschluss der Transaktion wird ACC die Stärken eines erfolgreichen Trios von Partnern vereinen:
Eine umfassende technologische Expertise in der Batterieentwicklung mit Saft, einer Tochtergesellschaft von TotalEnergies, die über mehr als 100 Jahre Erfahrung auf dem Gebiet der langlebigen Batterien und Batteriesysteme verfügt.
Ein führendes Unternehmen im Bereich der globalen Mobilität mit Stellantis, das sich zum Ziel gesetzt hat, die Art und Weise, wie sich die Welt bewegt, durch die Bereitstellung innovativer, sauberer, sicherer und erschwinglicher Mobilitätslösungen zu verändern.
Die    Forschungs- und Entwicklungs-Expertise von Mercedes-Benz, neben der Unterstützung des Ausbaus der ACC-Produktionsstätten auf Basis der maßstabsetzenden Qualitätsstandards der Marke.
***
Über ACC
Die Automotive Cells Company (ACC) wurde im August 2020 gegründet und wird die Expertise von drei großen Unternehmen mit sich ergänzenden Fähigkeiten und Erfahrungen vereinen. Das Ziel von ACC ist es, ein europäischer Marktführer für Autobatterien zu werden, die eine saubere und effiziente Mobilität für alle ermöglichen. Das Forschungs- und Entwicklungszentrum und die Testeinrichtungen in Nouvelle-Aquitaine sind nur der Anfang. 
Über Mercedes-Benz
Die Mercedes-Benz AG ist verantwortlich für das weltweite Geschäft von Mercedes-Benz Cars und Mercedes-Benz Vans und beschäftigt weltweit über 170.000 Mitarbeiter. Das Unternehmen konzentriert sich auf die Entwicklung, die Produktion und den Vertrieb von Personenwagen, Transportern und fahrzeugbezogenen Dienstleistungen. Darüber hinaus strebt das Unternehmen eine führende Position in den Bereichen Elektromobilität und Fahrzeugsoftware an. Die Mercedes-Benz AG ist einer der weltweit größten Hersteller von Luxus-Pkw. In ihren beiden Geschäftsfeldern baut die Mercedes-Benz AG ihr weltweites Produktionsnetzwerk mit rund 35 Produktionsstandorten auf vier Kontinenten kontinuierlich aus und stellt sich dabei auf die Anforderungen der Elektromobilität ein. Gleichzeitig baut das Unternehmen sein globales Batterieproduktionsnetzwerk auf drei Kontinenten auf und aus.  
Über Saft 
Saft hat sich auf fortschrittlichste Batterielösungen für industrielle Anwendungen spezialisiert, vom Design und der Entwicklung über die Produktion und kundenspezifische Anwendungen bis hin zur Dienstleistungsentwicklung. Seit mehr als 100 Jahren stellen die langlebigen Batterien und Systeme von Saft sicherheitskritische Anwendungen, Back-up-Power und Antriebe für unsere Kunden bereit. Unsere innovative, sichere und zuverlässige Technologie erbringt Bestleistungen an Land, im Wasser, in der Luft und im All. Saft versorgt industrielle Bereiche und Smart Cities mit Energie und stellt auch kritische Notstromversorgung unter extremsten Umgebungsbedingungen sicher, vom Polarkreis bis zur Sahara. Saft ist eine hundertprozentige Tochtergesellschaft von TotalEnergies, einem breit aufgestellten Energiekonzern, der Kraftstoffe, Erdgas und Strom produziert und vermarktet. 
We energize the world. www.saftbatteries.com
Über Stellantis 
Stellantis N.V. (NYSE / MTA / Euronext Paris: STLA) ist einer der weltweit führenden Automobilhersteller und Mobilitätsanbieter. Seine traditionsreichen und ikonischen Marken verkörpern die Leidenschaft ihrer visionären Gründer und der Kunden von heute in ihren innovativen Produkten und Dienstleistungen, darunter Abarth, Alfa Romeo, Chrysler, Citroën, Dodge, DS Automobiles, Fiat, Jeep®, Lancia, Maserati, Opel, Peugeot, Ram, Vauxhall, Free2move und Leasys. Angetrieben von unserer Vielfalt sind wir führend in der Art und Weise, wie sich die Welt bewegt - mit dem Ziel, nicht das größte, sondern das beste Technologieunternehmen für nachhaltige Mobilität zu werden und gleichzeitig einen Mehrwert für alle Interessengruppen und die Gemeinschaften zu schaffen, in denen es tätig ist. Weitere Informationen finden Sie unter www.stellantis.com.
Über TotalEnergies
TotalEnergies ist ein breit aufgestelltes Energieunternehmen, das Energien auf globaler Ebene produziert und vermarktet: Öl und Biokraftstoffe, Erdgas und grüne Gase, erneuerbare Energien und Strom. Unsere 105.000 Mitarbeiter setzen sich für eine Energie ein, die immer erschwinglicher, sauberer, zuverlässiger und für möglichst viele Menschen zugänglich ist. TotalEnergies ist in mehr als 130 Ländern tätig und stellt die nachhaltige Entwicklung in all ihren Dimensionen in den Mittelpunkt seiner Projekte und Tätigkeiten, um zum Wohlergehen der Menschen beizutragen. 
Kontakt ACC:
Matthieu Hubert: +33 (0) 6 88 05 16 26, matthieu.hubert@acc-emotion.com
Kontakt Mercedes-Benz:
Birgit Zaiser
Kontakt Saft:    
Elma Peters: +33 (0) 7 63 46 06 47; elma.peters@saftbatteries.com
Kontakte Stellantis:
Fernão SILVEIRA +31 6 43 25 43 41 - fernao.silveira@stellantis.com
Valerie Gillot: +33 6 83 92 92 96, valerie.gillot@stellantis.com
Kontakte TotalEnergies :
•    Pressearbeit : +33 1 47 44 46 99 l presse@totalenergies.com l @TotalEnergiesPR
•    Investor Relations : +44 (0)207 719 7962 l ir@totalenergies.com
Hinweis 
Diese Pressemitteilung, aus der keine rechtlichen Konsequenzen abgeleitet werden können, dient ausschließlich Informationszwecken. 
 
============================
Comunicato stampa 
Automotive Cells Company (ACC) accoglie Mercedes-Benz come nuovo azionista paritetico, insieme a Stellantis e TotalEnergies/Saft, e pianifica il terzo stabilimento per l'Italia
Mercedes-Benz diventa azionista paritetico di ACC insieme a Stellantis e a TotalEnergies/Saft, ciascuno con una partecipazione pari a 1/3 del capitale di ACC.
ACC intende investire in Italia per la costruzione del terzo impianto di produzione di celle per batterie a Termoli.
Mercedes-Benz fornirà tecnologia e know-how produttivo ad ACC.
I partner accelereranno lo sviluppo di ACC con un obiettivo di almeno 120 GWh di capacità di celle entro il 2030.
La capacità produttiva dell'impianto francese e di quello tedesco verrà portata da 24 GWh a 40 GWh per impianto. 
Parigi, 23 marzo 2022 – Stellantis, TotalEnergies/Saft e Mercedes-Benz hanno finalizzato l'accordo per accogliere Mercedes-Benz quale nuovo azionista paritetico di Automotive Cells Company (ACC). I partner si sono impegnati ad aumentare la capacità industriale ACC's ad almeno 120 GWh entro il 2030. Per allora, l'impianto in Francia (Billy-Berclau/Douvrin) e quello in Germania (Kaiserslautern) saranno ciascuno in grado di produrre almeno 40 GWh l'anno, contro i 24 GWh originariamente previsti.
Inoltre, il footprint industriale di ACC si allargherà con un terzo sito produttivo a Termoli (Italia). Un memorandum d'intesa tra ACC e le autorità italiane è stato siglato il 21 marzo, formalizzando così la volontà dei soci di investire in Italia e delle autorità Italiane di supportare tale investimento.
L'esecuzione del nuovo accordo tra i soci è sottoposta alle condizioni abituali, incluso l'ottenimento delle autorizzazioni necessarie da parte delle competenti autorità regolamentari.
"Siamo felici di accogliere Mercedes-Benz quale nuovo partner di ACC. Ciò dimostra la credibilità dell'iniziativa presa un anno fa da TotalEnergies/Saft e Stellantis e sostiene chiaramente la nostra ambizione di essere un  attore europeo innovativo nel settore della produzione di batterie. Questo è un passo fondamentale per ACC. Dopo soli 18 mesi dalla nascita, ACC è a buon punto con il suo centro di ricerca e sviluppo a Bordeaux ed il sito pilota di Nersac è già operativo. L'entrata di Mercedes-Benz è un voto di fiducia nella nostra roadmap tecnologica e nella competitività dei nostri prodotti, che rafforza significativamente il potenziale commerciale di ACC ed è a supporto dei nostri ambiziosi progetti di crescita." afferma Yann Vincent, CEO di ACC.
ACC nasce dall'iniziativa di Stellantis e TotalEnergies/Saft e gode del sostegno dalle autorità francesi, tedesche e europee con l'obiettivo di creare un operatore europeo nel settore delle batterie per i veicoli elettrici. L'ingresso di Mercedes-Benz in ACC è una chiara dimostrazione del grado di evoluzione industriale e dei meriti del progetto, che ne verrà rafforzato.
L'obiettivo di ACC è quello di sviluppare e produrre celle e moduli di batterie per veicoli elettrici  con particolare attenzione alla sicurezza, alle prestazioni e alla competitività, assicurando massima qualità e minima impronta di carbonio. Il piano capacità degli impianti aggiornato comporterà un investimento di oltre sette miliardi di euro. 
ACC sostiene l'Europa nell'affrontare le sfide della transizione energetica nell'ambito della mobilità, garantendo la sicurezza nell'approvvigionamento di un componente chiave per l'industria dell'auto elettrica.
Con l'esecuzione dell'operazione, ACC unirà i punti di forza di un trio di partner vincente:
la profonda esperienza tecnologica nello sviluppo di batterie di Saft, società collegata a TotalEnergies, che vanta oltre 100 anni di esperienza nel settore delle batterie a lunga durata e dei sistemi di batterie.
un protagonista della mobilità globale come Stellantis, la cui chiara missione è di garantire a tutti la libertà di movimento con soluzioni di mobilità innovative, sostenibili, sicure e accessibili.
l'esperienza di Mercedes-Benz nella ricerca e sviluppo, così come il suo supporto all'espansione degli impianti produttivi di ACC sulla base degli standard qualitativi di riferimento del marchio.
***
ACC
Automotive Cells Company (ACC) è stata fondata nell'agosto 2020 e combinerà le competenze di tre primarie realtà con capacità ed esperienze complementari. ACC ambisce a diventare il leader del mercato europeo delle batterie per auto al fine di garantire a tutti una mobilità pulita ed efficiente. Il centro di ricerca e sviluppo e le strutture per i test in Nouvelle-Aquitaine (Francia) rappresentano solo l'inizio. 
Mercedes-Benz
Mercedes-Benz AG è responsabile del business globale di Mercedes-Benz Cars e Mercedes-Benz Vans e conta oltre 170.000 dipendenti in tutto il mondo. L'azienda si concentra sullo sviluppo, la produzione e la vendita di autovetture, furgoni e servizi dedicati ai veicoli. Inoltre, aspira ad essere il leader dei settori della mobilità elettrica e del software per veicoli. Mercedes-Benz AG è uno dei maggiori produttori mondiali di autovetture di lusso. Nei suoi due segmenti di attività, Mercedes-Benz AG espande continuamente la propria rete di produzione mondiale che oggi vanta circa 35 siti di produzione in quattro continenti e si sta attrezzando per soddisfare le esigenze della mobilità elettrica. Allo stesso tempo, l'azienda sta sviluppando e ampliando la propria rete globale di siti di produzione di batterie in tre continenti.  
Saft 
Saft è specializzata in soluzioni di batterie tecnologicamente avanzate per l'industria: dalla progettazione e sviluppo alla produzione, alla personalizzazione, alla fornitura di servizi. Da oltre 100 anni, le batterie e i sistemi a lunga durata di Saft alimentano applicazioni critiche per la sicurezza, sistemi di emergenza e di propulsione dei clienti. La nostra tecnologia innovativa, sicura e affidabile offre prestazioni elevate a terra, in mare, in cielo e nello spazio. Saft alimenta l'industria e città più smart, offrendo allo stesso tempo funzionalità di emergenza essenziali in ambienti remoti e ostili, dal Circolo Polare Artico al deserto del Sahara. Saft è una società interamente controllata da TotalEnergies, azienda multi-energetica che produce e commercializza carburanti, gas naturale ed elettricità.
Diamo energia al mondo. www.saftbatteries.com
Stellantis 
Stellantis N.V. (NYSE / MTA / Euronext Paris: STLA) è uno dei leader a livello mondiale nella produzione di veicoli e fornitore di servizi di mobilità. I suoi marchi iconici e ricchi di storia incarnano la passione dei relativi lungimiranti fondatori e degli attuali clienti per i loro prodotti e servizi innovativi, includendo Abarth, Alfa Romeo, Chrysler, Citroën, Dodge, DS Automobiles, Fiat, Jeep®, Lancia, Maserati, Opel, Peugeot, Ram, Vauxhall, Free2move e Leasys. Grazie alla diversità che ci alimenta, guidiamo il modo in cui il mondo si muove -puntando a diventare la più significativa tech company nel settore della mobilità sostenibile, non la più grande, e creando valore aggiunto per tutti gli stakeholder e le comunità in cui opera. Per maggiori informazioni, consultare il sito www.stellantis.com/it.
TotalEnergies
TotalEnergies è un'azienda multi-energetica che produce e commercializza energie su scala globale: petrolio e biocarburanti, gas naturale e gas green, energie rinnovabili ed energia elettrica. I suoi 105.000 dipendenti si impegnano per un'energia sempre più conveniente, pulita, affidabile e accessibile al maggior numero di persone possibile. Presente in oltre 130 paesi, TotalEnergies pone lo sviluppo sostenibile, in tutte le sue dimensioni, al centro dei suoi progetti e operazioni per contribuire al benessere delle popolazioni. 
Contatti di ACC:
Matthieu Hubert: +33 (0) 6 88 05 16 26, matthieu.hubert@acc-emotion.com
Contatti di Mercedes-Benz:
Birgit Zaiser
Contatti di Saft:    
Elma Peters: +33 (0) 7 63 46 06 47; elma.peters@saftbatteries.com
Contatti di Stellantis:
Fernão SILVEIRA  +31 6 43 25 43 41 – fernao.silveira@stellantis.com
Valerie Gillot: +33 6 83 92 92 96, valerie.gillot@stellantis.com
Contatti di TotalEnergies :
•    Media Relations: +33 1 47 44 46 99 l presse@totalenergies.com l @TotalEnergiesPR
•    Investor Relations: +44 (0)207 719 7962 l ir@totalenergies.com
Avvertenza
Il presente comunicato stampa, dal quale non possono essere tratte conseguenze giuridiche, ha scopo puramente informativo.