10th Mar 2023
LIFE IN ACC
ACC reaches 92/100 on the gender equality index in 2022!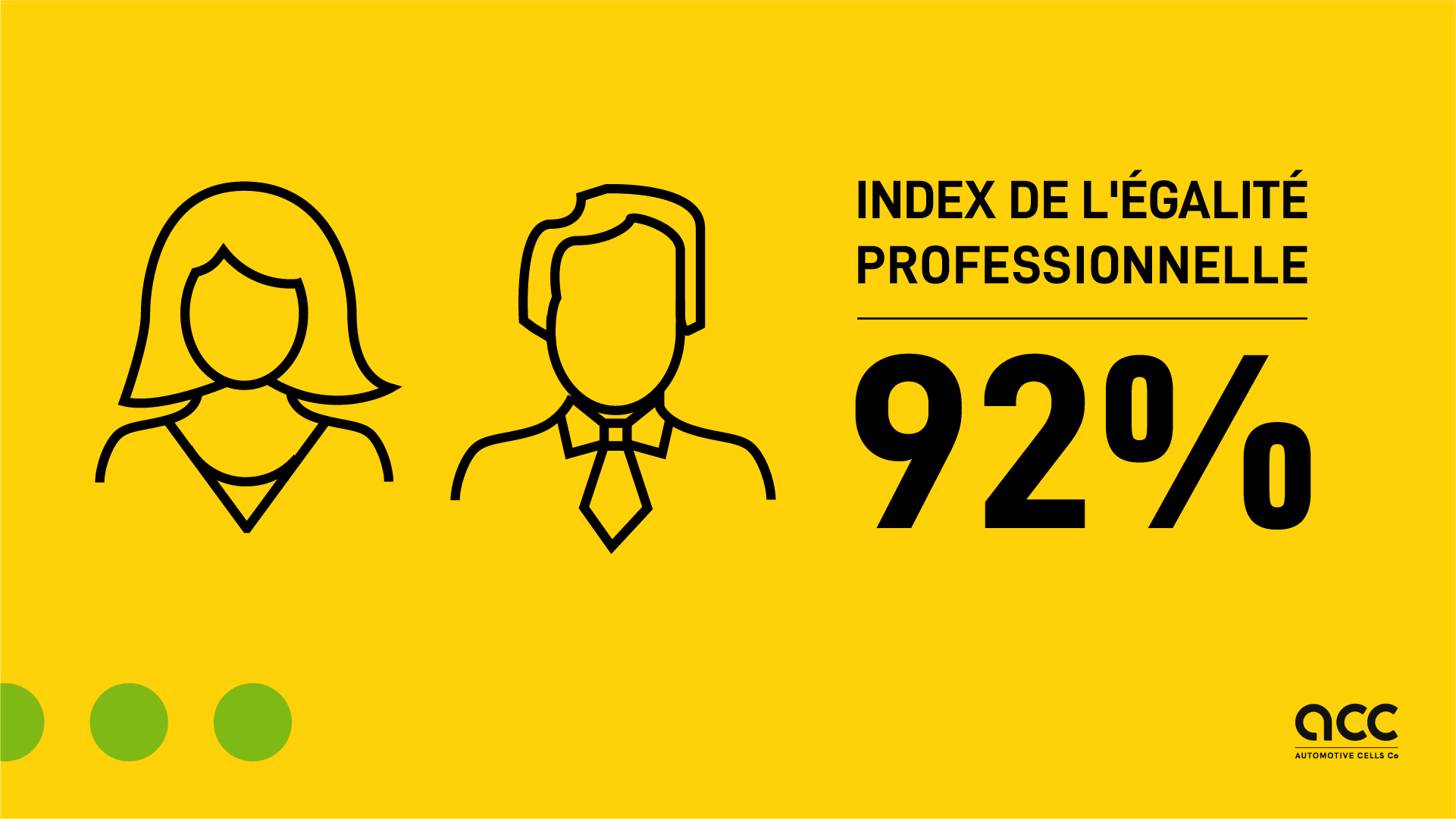 The principle of equal pay for women and men has been legally established in France since 1972. However, disparities remain for equal work. Many laws have been enacted to change this situation. The french law entitled Avenir Professionnel, which came into force in September 2018, introduced the gender equality index, which is calculated and disseminated each year on a dedicated government website and the company website, which must reflect the results of progress plans instituted by companies with more than 50 employees.
The index is calculated on the basis of 5 indicators (base 100, see table):
The gender pay gap (40)
The gender pay gap in the distribution of individual pay rise (20)
The distribution gap for promotions (15)
The percentage of female employees who received a raise in the year they returned from maternity or adoption leave (15)
The number of employees of the under-represented gender in the ten highest paid employees (10)
For the year 2022, the ACC company obtained a score of 92/100, given that the average of companies responding to the index is 86/100.
As a reminder: companies with an overall score of less than 85/100 are required to set targets for improvement published on their website. For those with a score below 75/100, appropriate corrective measures must be taken and published on their website.
Last year, ACC made commitments in favour of gender equality in the framework of its company agreement signed on 4 November 2022 with the CFTC and FO following the mandatory annual negotiations.
The measures negotiated include:
​​​​A budget of 0.4% of the wage bill dedicated to pay measures to promote equal pay for equal work
A method for analysing any pay gaps and, in the event of failure to justify them, a method for regularising them within the duration of the current company agreement
The benefit of paternity leave without seniority conditions, with maintenance of gross remuneration minus the part paid by social security, if applicable
A plan to raise managers' awareness of the challenges of gender equality and professional equality
The implementation of programmes to support women with potential for management positions and/or positions of responsibility; the objective is to have a proportion of women in management positions equivalent to their representation in the professional category concerned. 
Indicators have been selected: gender-based monitoring of the time between 2 promotions, gender-based monitoring of employees occupying managerial positions and managers of managers ....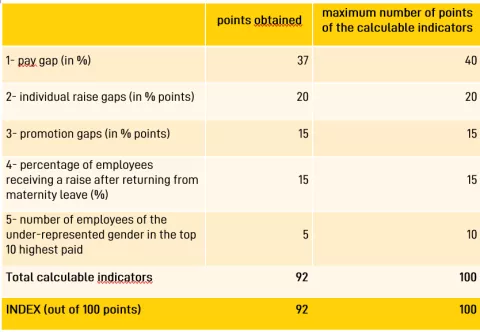 Details of the indicators of the ACC professional equality index for the year 2022
But a score is still a score and it is not for reasons of regulatory compliance but for reasons of performance and ethics that we will continue to work to improve diversity within our teams.