15th Mar 2023
SUSTAINABLE SUPPLY CHAIN
Responsible sourcing, what is ACC doing on the matter.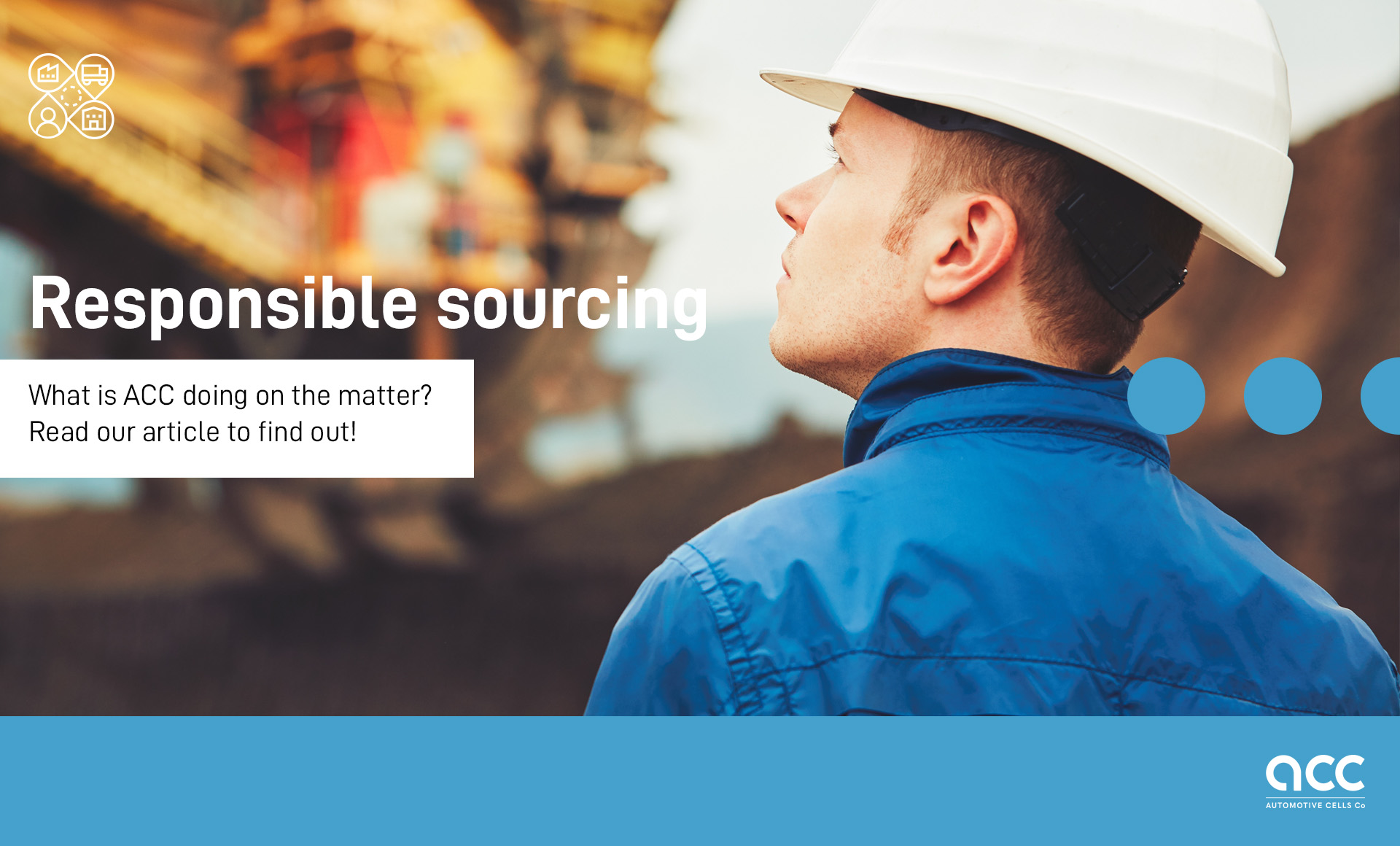 A couple of weeks ago, we explained to you what is a sustainable supply chain and how supply chain have been facing a massive transformation these last few years. Many laws contribute to promoting greater transparency and accountability in supply chain management, and to encouraging companies to take steps to ensure that their supply chains are sustainable and socially responsible. But these are not the only reason why the Supply Chain is one of our top CSR priority… 
Why is it important, and why does it matter to ACC? 
According to EcoVadis, at least 70% of a company social and environmental impacts stem from their suppliers. At ACC this is more than 80%  of our cell's CO2 footprint that will come from our suppliers.
Indeed, the resources needed for the exploration, mining and refining of the raw materials that come into the production of batteries are important.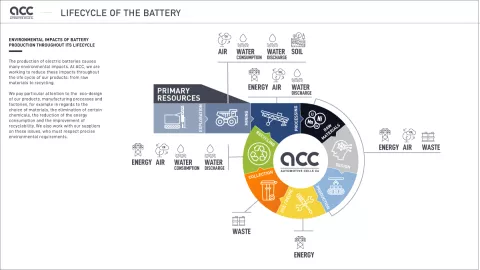 To confront these issues practically, we need our employees and our suppliers to innovate together, we have to develop skills and a vision to design our products and processes in a more eco-friendly way. We have to understand the business context and work hand in hand with our stakeholders to create value. We have to invent new business models. 
 
How are we building a sustainable supply chain? 
Ensuring full traceability  of the raw materials – particularly strategic metals, and building a chain of suppliers that respect the same environmental, social and governance standards that we do is one of our first priorities, along with reducing our environmental footprint.  
Our first step consisted in clearly stating our approach to this responsibility in our sustainable supply chain charter. It summarizes our guiding principles for the worldwide supplier network, following globally accepted standards and internationally-recognized guidelines on Environmental, Social and Governance (known as ESG1-topics ). This Charter is translated into a CSR questionnaire that all suppliers who apply for a RFQ launched by ACC must complete (scope in 2021 and 2022: direct purchasing). Their answers are considered during the sourcing committees to select the suppliers in the same way as the other criteria (quality, technical, costs, etc.).
 
Committing to a responsible sourcing
ACC committed not to use conflict minerals, Lithium that causes additional hydraulic stress, nickel that causes deep-sea tailing, or Cobalt sourced from artisanal mining. All our BOM (Bill of Materials) suppliers were assessed by EcoVadis, the CSR and sustainable procurement performance assessment platform, by the end of 2022. 100% of them will have to meet our CSR requirements for BBD1 plant's start-of-production by the second half of 2023. For materials considered as priorities on sustainability issues such as Cathode active material – the NMC, Anode  active material – the graphite, electrolyte, copper or aluminum, the chosen suppliers will need to be at least awarded an EcoVadis gold medal by 2025. 
EcoVadis also supports ACC in formalizing its sustainable procurement policy and train the buyers. In 2023 the Purchasing team priorities regarding responsible sourcing are :
The follow-up of EcoVadis first CSR assessment of our suppliers, more specifically for the suppliers who have an improvement plan to elaborate and implement
The tracking of our suppliers' GHG emissions and the respect of the thresholds defined for the 7 most impacting materials;
The elaboration of a program for Due Diligence in Supply Chain.
Our processes follow the specification of the UN Guiding Principles on Business and Human Rights as well as the respective relevant OECD Guiding principles & Concepts.
"At ACC, we like to say that we are generating shared value." says Jean-Baptiste Formery, Purchasing VP at ACC. "The EcoVadis certification gives us the guarantee of sustainable management of raw material coming in the conception of our Cathodes and Anodes and that the rights of the people working upstream and downstream of our activities are respected — it encourages our suppliers to be more responsible. This is work that we are doing in conjunction with them contributes to make the whole battery value chain more efficient and virtuous."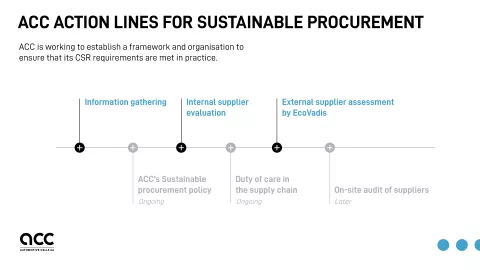 For the next chapter of this series of articles, we will be interviewing Olivier Talabard, our Supply Chain director, as well as Jia Bonce, Supply Chain standardization & process at ACC, to find out how the supply Chain Direction of ACC is integrating CSR into its practices and roadmap. Stay tuned!